Super is one of the biggest investments you will make in your lifetime, so it's important to understand where your money is invested and how we aim to deliver strong long-term returns to help you retire with more.
We are one of Australia's largest superannuation funds, committed to delivering strong long-term returns to our members. We are also responsible investors and owners, which means we invest for strong retirement outcomes while also considering the impact of our investments on the environment and society. We want to be a force for good, by investing in projects and businesses that contribute to the communities where our members live, work, and retire.
One of the ways in which we aim to create long-term returns while investing in people and the community is through our investment in key worker affordable housing. Property is an important asset class for us, and a strong contributor to returns. As part of our property investment strategy, we recently launched Aware Real Estate - a property investment platform responsible for the performance and management of our directly-owned Australian property portfolio - and it's through Aware Real Estate that we invest in key worker affordable housing.
Why key worker affordable housing?
The availability of affordable rental housing is a growing challenge for many in the community. As demand steadily outstrips supply, more and more people face a long commute between home and work. This is particularly true for our members who are key workers in service occupations such as health, education, policing, and emergency services, and who often need to relocate or travel long distances to their places of employment.
To address the chronic shortage of affordable rental housing, we work with governments, community housing providers and developers to explore attractive opportunities.
For example, during recent weakness in the residential unit market, caused by a short-term over-supply of units, a credit crunch caused by tighter lending standards and government policy, and this resulted in opportunities to buy residential stock in bulk at attractive discounts to prevailing market prices.
Investing in key worker affordable accommodation is one of the ways we aim to deliver strong long-term returns to members, while making a difference in the communities where our members live, work, and retire.
Where are we investing in key worker affordable housing?
To date, we have secured five sites for affordable housing across the Sydney suburbs of Miranda, Epping, Waterloo and Hurstville and the Victorian suburb of Moonee Ponds.
Once all have been developed these properties will make available up to 234 key worker housing units and will be rented at a 20% discount to market rent to key workers such as teachers, nurses, emergency services and social workers. We are actively pursuing further opportunities in both Melbourne and Sydney as we seek to grow our affordable housing portfolio.
What's in it for our members?
Returns will come from the rent received from tenants, combined with the potential capital growth onthe value of apartments.
These locations are high employment areas for those working in health, education, law enforcement and emergency services, making these investments especially relevant to First State Super members, many of whom work in these sectors.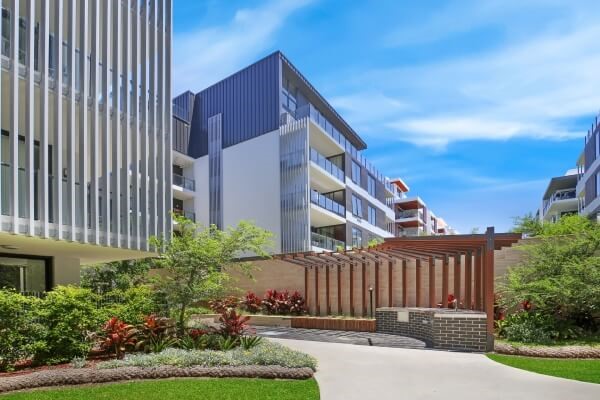 Our Epping investment is situated in Sydney's north west, 22kms from the CBD. It is close to transport, Macquarie University, schools, two hospitals and a shopping and business precinct.
It contains 61 key worker housing units, which are almost fully leased to professionals across the health, education and law enforcement sectors.
Our Waterloo investment is close to schools and globally recognised universities, as well as hospitals such as the Royal Prince Alfred Hospital, St Vincent's Hospital and the Prince of Wales Hospital.
Approximately three quarters of the units at the Waterloo site have now been leased to professionals across the health, law enforcement and emergency services sectors.
Our Hurstville investment is situated 15kms south west of Sydney's CBD and is close to a number of primary and secondary schools, and several hospitals such as St George Hospital, Hurstville Private Hospital and Waratah Private Hospital.
The site is currently under construction and we anticipate its completion in mid-November 2019 with units expected to be available from December 2019.
Moonee Ponds is situated approximately 7kms north west of the Melbourne CBD close to a number of primary and secondary schools, several university campuses, including RMIT, Monash University and the University of Melbourne, as well as several medical service providers and hospitals, including the Royal Melbourne Hospital, the Royal Children's Hospital and John Fawkner Private Hospital.
Our Miranda site is well-positioned in the residential suburb of Miranda, located about 24kms south of Sydney's CBD. It is close to transport, shopping centres, beaches, primary schools, high schools, and hospitals such as Sutherland Hospital, Kareena Private Hospital and President Private Hospital.
What is key worker affordable housing?
Affordable housing is accommodation for key workers who are unable to afford to pay market rents on top of general living expenses, such as travel to work, food and clothing. A key worker is anyone who is employed in essential industries like health care, education, emergency services and law enforcement. Many of our members belong to these key sectors in the community.
Hear from one of our members in affordable housing at Waterloo
Melissa* is a paediatric nurse working at a children's hospital in Sydney's East. She has recently taken up residency in an apartment at our Waterloo site. Moving from Parramatta, this means her commute to and from work has drastically reduced by over an hour a day if she takes public transport and over 30 mins if she drives for late shifts.
Other apartments in the area were simply too expensive for Melissa, but with a 20% reduced to market rent, she now pays $480 per week for her beautiful apartment, fully equipped with all whitegoods, air-conditioning, heating and a balcony.
Melissa is delighted with her unit and the proximity to her work: "I can't emphasise enough how much this means to me – to have my own place that is affordable, close to work and safe".
She also loves that it's in a good position, with a nice aspect and that it is relatively quiet, for its central location.
The offer was referred to Melissa by the NSW Nurses and Midwives Association, but you can also find out more information and apply through our partners Evolve Housing.
* Name has been changed for privacy reasons.
The investments included are accurate as at 1 September 2018.
All investments carry risk, and First State Super does not guarantee the payment of income or performance of the investments referenced above.